The hard road won
Striker fights grievance to US Supreme Court and wins!
Gary Rusnell, a former Detroit newspaper striker, doesn't give up. Fired for a photo op he fought his grievance to the US Supreme Court. And won. His case established the right of fired strikers to arbitration.
The company tried to buy and harass him out; nevertheless, he didn't give in.
It got personal. Tim Kelleher, Detroit Newspapers Vice President for Labor Relations, said, "Gary will only get his job back over my dead body."
"That was all hot air, says Gary, "they tried to demoralize me but they made me more determined." He got his job back in December 2000 when the Federal Circuit Court in Cincinnati lifted a stay order.
One morning this September Gary was handed an envelope with a check containing 198 weeks back pay. "The company runner said, 'You won. We lost. The arbitrator left us no choice'," said Gary. "I made him repeat it."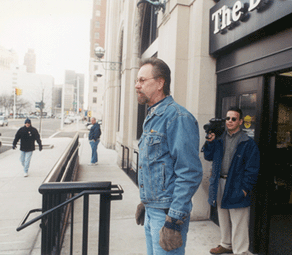 Gary Rusnell turns to thank supporters before returning to work 
following lifting of 'stay' by court.
Security records comments for posterity. Photo © Rebecca Cook
When did you start working at the paper?
I hired into the Free Press in 1970 because it was the more liberal of the two papers. Before that I'd worked on the road in Ohio, Pennsylvania and on the east coast. If you had a journeyman's card as a printer, you could just show up in a town and work. I could work seven days a week back then. It was good money and interesting work.
It was hot lead linotype. We typed out the stories and made a line of type at a time. We built the ads with metal, made up pages, and did proofreading too. I went to trade school for five years. We had our own apprentices union. First I was a steward, then I went through the ranks and became president of the apprentice union. We organized around equal rights for apprentices to pay dues in the senior union and to vote on contracts.
There were probably 800 printers working in the composing room between the two papers in 1970. Today, with the JOA putting us under one roof, there are about 55 of us.
It's all on computers now. In the seventies the unions knew technology was threatening our trade and they stopped the practice where you could come into town and work. You had to be local. The unions negotiated lifetime job guarantees in the '70s too. They knew ours was an endangered craft.
You were fired for a symbolic act.
It was Labor Day weekend '96, 14 months into the strike, and the leaders of the Internationals came into town. Sweeney, Trumka, Linda Foley from the Guild, and Bill Borman from the CWA. Plus local union leaders, clergy, and politicians were there. We listened to their speeches. Then they had their photo op sit-down and people who were stewards like myself sat down with them.
The company termed it blocking ingress and egress of a building but they had locked the doors themselves at 10:15 and the speeches went until noon. The side door was unlocked and the police were standing there sending people who came to go inside the building to the open door. It wasn't like we shut down the building. It was a photo op.
A photo op so the International leaders could give speeches?
For the first year the Internationals stayed back and the Local leaders wouldn't ask for help. But this was bigger than them, they didn't have the skills to deal with union busting by these big corporations.
It was a war, a fight for survival, an attack by the big corporations to bust unions in Detroit. They used tear gas and pepper gas, and they hired thugs and goons. There were cops beating people. This was an attack on the labor movement, on the newspaper industry, not just on us. The company never budged from their first demands. They just refused to negotiate.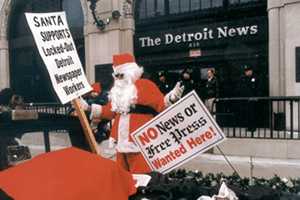 Gary Rusnell, dressed as Santa Claus delivers coal to Detroit Newpapers.
Photo © Rebecca Cook
What could have been done differently?
More mass meetings and input from the workers. As strikers we didn't have a voice in our own strike. One time strikers petitioned to have a meeting which was held at local 600, the Ford local, and it was supposed to be a mass meeting where strikers could get up on the floor and share ideas and come up with strategies. But the local presidents talked for three hours. They took up the meeting until people got tired and left and our little voices at the end of the meeting were never heard.
If you don't shut down the production you don't win the strike. We'd rally and delay production then they'd call it off. As long as they're delivering product the strike hasn't done the job.

A lot of people got fired but you fought the firing.
People didn't go through the process, the arbitration and the courts. I was fired at Thanksgiving '96 and it took me two years to get to the arbitration. A lot of Guild people could move on, other trades were more restricted. I've been through two lawsuits, two appeals, two arbitrations and the Supreme Court denied a writ of certiorari. They offered me a buyout and I said no. It's been a long strange trip.
I went back to work in December 2000 after a stay was lifted. The court said it was too much economic damage for me, and very little for them, so I could work 'til there was a decision. After the Supreme Court let the decision stand in my favor I still had to go back to the original arbitrator for him to define "made whole". It was unbelievable what they spent. They paid a consultant $300 an hour, and the two assistants $200 an hour. They spent hundreds of thousands of dollars to deny me a fraction of that.
It showed us what lengths corporations will go to in delaying and denying justice. It was like a roller coaster ride that never seemed to end. You think you have it won; then, no, they got more courts to go to now. I learned a lot about the system. I'm glad I beat them. I made a company wrong into a human right.
Now it's proven that if you have a union contract that says you get arbitration the company can't say that got broken by a strike. Their idea was that in the time between when you walk out the door on strike and walk back in they can fire you and escape arbitration. They're wrong.
What did you learn?
There is justice for the working class if you fight long enough. You cannot give up. My daughter gave me a poem that I carried with me everywhere. It said the road can be hard but you cannot give up. In the end, thanks to my family and to union solidarity, I was able to prevail and I won rights for other workers.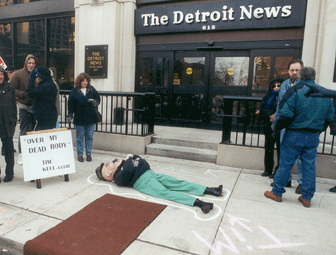 Virginia Rusnell laughs at dummy of corporate VP before Gary
returns to work after lifting of stay.  Photo © Rebecca Cook
Printer friendly version