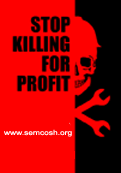 ... and fight like hell
Workers Memorial Day has passed – April 28th – the day when we remember those who have lost their lives to workplace injury or illness and rededicate ourselves to the cause of improving working conditions for all. Events were held in Trenton's Elizabeth Park on Sunday April 24, in Lansing's Wentworth Park on April 28th, and at many workplaces and union halls around the state.
As we honor fallen workers we should know that safe workplaces are under attack – from likely and unlikely suspects.
likely suspects
It's no surprise that the Republican budget calls for an end to successful worker training grants funded by federal OSHA. The annual cost of this program is only $11,000,000. Not even a drop in the federal budget.
The reason to eliminate it is anti-worker politics.
Many unions – GCIU, Laborers, UFCW, UNITE, Utility Workers, SEIU and the UAW – have their grants. The National Labor College, National COSH, and Detroit-based SEMCOSH each have grants too. In the past Bush administration has tried unsuccessfully to slash worker safety training funds but this year they want to eliminate it entirely.
A key defender of the program has been Pennsylvania Republican Senator Arlen Spector whose phone number is . Thank him for his past support of the OSHA Susan Harwood grants and encourage his continued support.
unlikely suspects
The less likely source of worry about the future of union safety programs is the unions.
There is a debate at the highest levels of the unions over how to revive our movement and move forward. The debate itself is healthy, but its limited focus is somewhat troubling. Right now it seems limited to 'electoral politics' versus 'organizing the unorganized' with no one saying either is unimportant but 'both sides' seeking rebates of the 'per capita' paid by international unions to the National AFL-CIO.
On the chopping block are the AFL research, corporate campaign, field mobilization and other departments. "One program that will be lost is health and safety," writes union safety expert Jordan Barab. "Countless Americans have their lives, their limbs, and their health because of the Department's efforts." The department is four people who are one of the few lines of defense against corporate lobbyists hell-bent on weakening OSHA and endangering our working lives.
SEIU President Andy Stern is to be praised for initiating the debate, however, we should put his claim that "the AFL-CIO provides too many services that international unions should provide themselves" into context. When Stern became SEIU President that union had one of the largest and strongest safety departments in the country; it is now one individual and SEIU relies on the AFL-CIO for support on safety.
A single minded focus on organizing is not a reason to slash the safety budget. People organize and form unions because unions are the only institutions that put forward an agenda for working folks. Working conditions, as much as wages and benefits, are a key concern of unorganized workers. Eliminating programs that improve working conditions will not attract new members.
would you pay $12 a year for a stronger labor movement?
A bolder solution would be to increase the per capita that goes to the three levels of the AFL-CIO. Now don't get excited. Only 61¢ of our monthly dues goes to the National, another 25¢ to the Michigan State Federation, and 30¢ to the Metropolitan Detroit central labor council. A $1 a month increase in our dues shared among the three levels -- $12 a year times 13,000,000 members nationwide – would raise $156,000,000 a year. With that money we could preserve and expand existing programs, hold staff accountable, and have a war chest to take on the corporados like Wal-Mart, Honda, and the national construction companies.
This Workers Memorial Day: Mourn for the dead and fight like hell for union safety programs.