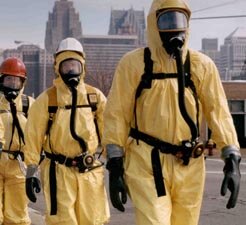 Hazmat Trainings
For more information see our Michigan Safe Work website.
SEMCOSHs experienced trainers will tailor trainings to your specifications - your hazards - your shift schedule. Please email or call for more information.
We offer a full range of Hazmat trainings including:
3 hour Hazwoper Awareness
40 hour Hazardous Site Worker
40 hour Industrial Site Technician Level
8 hour Site Worker Refresher
8 hour First On Scene - Industrial & Municipal
24 hour Emergency Response - Industrial & Municipal
8 hour Emergency Response Refresher
8 hour Supervisor Training
24 hour Treatment, Storage & Disposal TSD Facility Personnel
8 hour TSD Refresher
16 hour Incident Management
4 hour Incident System Awareness
4 hour Evacuation Train-the-Trainer
16 hour Disaster/Terrorism Preparedness
8 hour Hospital Decontamination
24 hour Methamphetamine Laboratory Decontamination
4 hour Personal Protective Equipment
4 hour Environmental Release
4 hour Persistant Bioaccumulative Toxics
4 hour Toxic Use Reduction
Please email or call for more information.